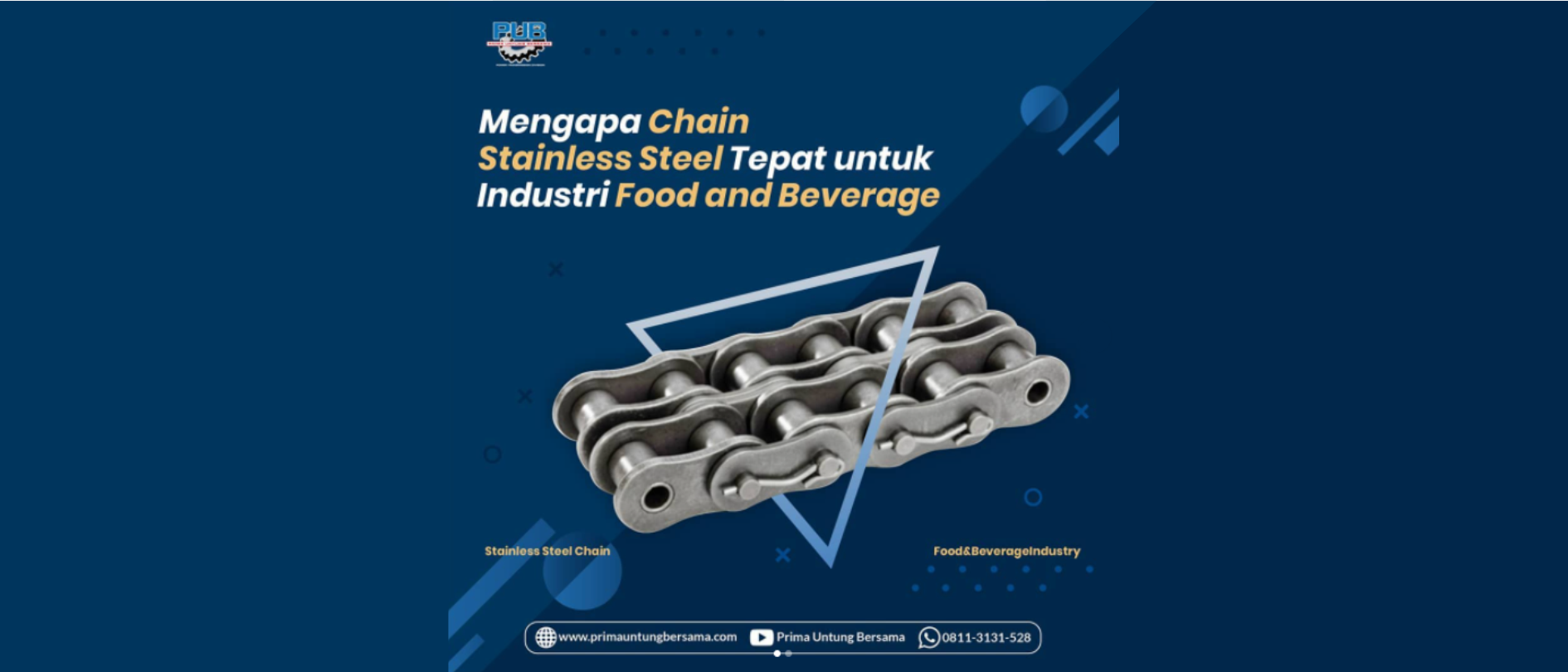 Food Safety: The Advantages of Using Stainless Steel Roller Chains
Posted By : Admin
14 Jan 2021
Ensuring that food is safe for human consumption is probably the highest priority in the food preparation process. Manufacturers in the food industry must follow very strict guidelines to avoid product contamination.
It is important to know what material to use to avoid any transfer of harmful elements from metals to food that could cause human ingestion. Learn the correct type and metal for the different stages of ffod processing, as well as cleaning and sanitation.Understand the type and the suitable metal depending on the different stages of food processing,
Stainless Steel Roller Chain in the Food Industry
Roller chain are commonly found in mechanical power transmission that can be found in a variety of environments such as agriculture, automotive, and motorcycles. They are also prevalent on conveyor belts and other industrial assembly settings.
On the other hand, stainless steel roller chains are also found in some of these environment, especially in the food industry.
For more than a century, stainless steel has proven to be a food-safe material. Not only it can withstand extreme temperatures, the material's protective oxide layer can also help prevent the formation of rust that could contaminate foods. No chemicals can migrate into foods, making it ideal for the food industry.
The Benefit of Stainless Steel Roller Chain
Translation results
The following are some of the reasons food companies have used stainless steel rolle chains : 
Corrosion resistance: compared to the other metals, stainless steels are highly resistant to corrosion and rusting. The chromium that consist in stainless steel helps it resist abuse much longer before showing signs of wear. Make the equipment does not need to be replaced as frequently.
Temperature resistant: the stainless steel roller chain is able to withstand temperatures of up to 400

ºC and pressures without deforming and maintain its shape under these conditions. It is also capable of withstanding extreme cold, as low as -20ºC.

Easy to clean: stainless steel is smooth and easy to clean. It does not provide a place for bacteria to hide, make it hygienic. Please note that it is important to always use a food-grade stainless steel cleaner.
Non-reactive surface: stainless steel acts as a neutral surface for food products, which means you can use it to cook foods that are acidic, such as citrus, tomatoes, or vinegar, without worrying about transferring the metallic taste to your food.
For more information on power transmission, industrial parts, and much more, you can always contact us to connect with our expert. 
Keamanan Pangan : Kelebihan Penggunaan Stainless Steel Roller Chain dalam Industri Makanan dan Minuman
Menjamin keamanan pangan layak dikonsumsi menjadi priorotas utama selama proses produksi makanan. Para pemanufaktur dari industri makanan dan minuman secara patuh mengikuti pedoman kerja untuk mencegah terjadinya kontaminasi produk.
Memahami benar material jenis apa yang digunakan untuk menghindari terjadinya perpindahan unsur berbahaya dari logam ke makanan pun menjadi hal yang penting. Termasuk juga kebersihan dan sanitasi mesin dan lingkungan.
Stainless Steel Roller Chain pada Industri Pangan
Roller Chain adalah transmisi daya mekanikal yang umum ditemukan pada banyak jenis industri, termasuk agrikultur, automotif, dan juga sepeda motor. Mereka juga lazim ditemui pada sistem konveyor dan jenis perakitan dalam industri lainnya.
Di lain pihak, stainless steel roller chain juga dipakai terutama pada industri makanan dan minuman.
Selama berabad-abad lamanya, stainless steel telah membuktikan kemampuannya sebagai material baik yang aman untuk makanan. Tak hanya mampu bertahan pada temperatur yang tinggi dan tahan karat. Kamu tidak perlu khawatir dengan kemungkinan adanya bahan kimia yang meungkin berpindah dari logam ke makanan. Stainless steel adalah pilihan ideal untuk industri pangan.
Kelebihan Penggunaan Stainless Steel Roller Chain
Berikut ini adalah beberapa alasan mengapa stainless steel roller chain tepat digunakan pada industri makanan dan minuman :
Tahan korosi : dibanding logam lain, stainless steel punya kertahanan yang lebih baik terhadap korosi dan karat. Chromium yang terkandung di dalamnya membantu mencegah proses pengaratan dan membuatnya lebih awet dan tahan lama. Kamu tidak perlu mengganti roller chain terlalu sering.
Tahan panas : roller chain berbahan stainless steel mampu bertahan pada suhu ekstrem dengan tinggi mencapai 400

ºC, serta tahan tekanan tanpa merubah bentuknya. Pun dapat bertahan dengan suhu yang sangat rendah, hingga -20ºC.

Mudah dibersihakan : Permukaannya yang halus membuat stainless steel mudah dibersihkan tanpa memberi cela untuk bakteri berkembang biak. Sebagai catatan, penting untuk selalu pakai pembersih berlabel food-grade untuk membersihkan stainless steel.

 

Bersifat netral atau non

-reaktif : Sifatnya yang netral membuat stainless steel aman digunakan dalam proses industri makanan. Mereka tidak mentransfer kandungan logamnya sehingga tidaka akan mengubah warna,

rasa, atau bau dari makanan atau minuman yang diproduksi
Untuk informasi lebih lanjut seputar power transmisi, komopnen industri, dan lainnya, kamu bisa hubungi kami untuk terhubung dengan teknisi terbaik kami. 
Contact Us